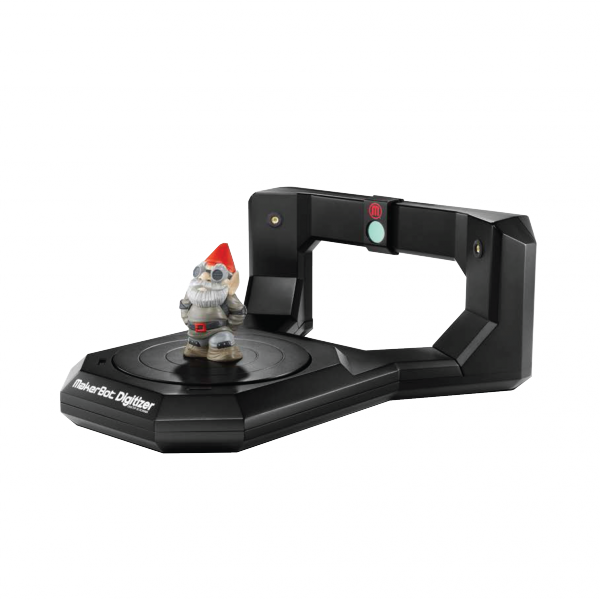 A FAST AND EASY WAY TO CREATE 3D MODELS
Quickly turn the things in your world into 3D models
that you can modify, improve, share, and 3D print.
Product Description
OPTIMIZED FOR 3D PRINTING
With just two click, the MakerBot Digitizer Desktop 3D Scanner's easy to use, yet sophisticated software creates clean, watertight 3D models that are ready to 3D print. We've optimized the whole process to work seamlessly with MakerBot Replicator Desktop 3D Printers, but you get standard design files to use on the 3D printer of your choice. You don't need any design or 3D modeling skills to get started, and it all happens in just minutes.
REMAKE YOUR WORLD
See things differently. When you scan an object, you give it a brand new life in the digital world. The MakerBot Digitizer Desktop 3D Scanner outputs standard 3D file formats so that you can improve, shape, mold, twist, animate, and transform objects in a thirf-party 3D modeling program.
SOPHISTICATED SOFTWARE
Behind the two-click simplicity is a powerful and complex reconstruction process. MakerWare for Digitizer contains an algorithm that connects hundreds of thousands of points into a seamless digital mesh in just seconds. There's no patching, stitching, or repairing required, so you can skip straight to your creative process. We've worked hard to create software that saves you time.
INTRODUCTING MAKERBOT MULTISCAN TECHNOLOGY
Scan objects from multiple angles
CREATE BETTER 3D MODELS
MakerBot MultiScan Technology allows you to scan objects from multiple angles to capture the top, bottom, and hidden parts of your object. You can then "merge" them together to create the best possible 3D model.
Product Features
| | |
| --- | --- |
| Scan Volume | Up to 20.3 (Diameter) x 20.cm (H) [8 x 8 inch] |
| Dimensional Accuracy | +- 2.0mm [+- 0.079 inch] |
| Detail Resolution | 0.5mm [0.0197 inch] |
| Triangles Per 3D model | Appox. 200K |
| Scan Speed | Approx. 12 minutes |
| Steps Per Rotation | 800 per rotation |
| Optimal Light Conditions | Artificial Indoor Light |
| Maximum Weight on Turntable | 3kg [6.6 lbs] |
| Software Bundle | MAKERBOT for Digitizer |
| Exported File Types | STL, THING |
| Operating Systems | |
| Lasers | Two eye-safe class 1 laser line generators |
| Camera | 1.3 megapixel CMOS image sensor |
| Enclosure Material | PC ABS |
| Connectivity | USB Connection |
| Stepper Motor | 0.9° step angle with 1/16 micro-stepping |
| Product Dimensions | 47.5 L x 41.1 W x 20.3 H cm [18.7 x 16.2 x 8.0 inch] |
| Shipping Dimensions | 52.1 L x 47 W x 24.4 H cm [20.5 x 18.5 x 9.6 inch] |
| Product Weight | 2.1 kg [4.7 lbs] |
| Shipping Weight | 5.0 kg [11.0 lbs] |
| Operating Temperature | |
| Storage Temperature | 0°-55°c [32°-90°F] |
| Operating Temperature | |
| AC Input | 100-240V, ~2 AMPS, 50-60 Hz |
| Power Requirements | 12 V DC @ 2.08 AMPS |