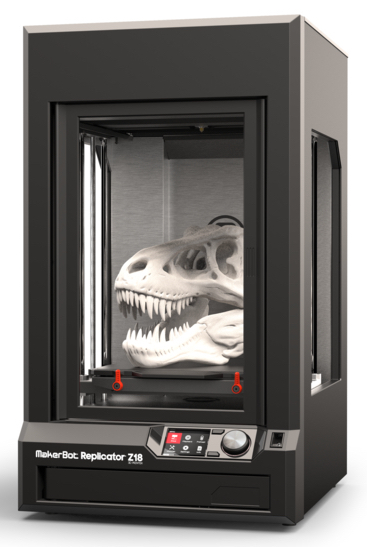 Massive build volume and the best price to performance ratio in the extra-large, professional 3D printer category
Product Description
IDEAL FOR EXTRA-LARGE PROJECTS
Regularly enhanced with software improvements
MASSIVE BUILD VOLUME – 2,592 CUBIC INCHES (30.0L x 30.5W x 45.7H cm)
Make extra-large and ultra-tall industrial prototypes, models, and products.
Think and build bigger than ever.
Print multiple things at once so you can get to work on your next design sooner.
BEST PRICE TO PERFORMANCE RATIO IN THE PROFESSIONAL 3D PRINTER CATEGORY
Seamlessly integrated with the growing MakerBot 3D Ecosystem of hardware, software, materials, accessories, and solutions.
App and cloud enabled with regularly enhanced software improvements.
Wi-Fi, USB, and Ethernet connectivity ensures a seamless production workflow.
Remotely connect to, view, and control your MakerBot Replicator 3D Printer.
PROFESSIONAL-QUALITY DETAIL
100-micron to 200-micron layer resolution.
Create professional-quality, high-resolution prototypes and complex models.
Get smooth-to-the-touch surfaces that don't need sanding, finishing, or post-production.
Create realistic prototypes and models for demonstrations and presentations.
KEY FEATURES
SMART EXTRUDER+
Easy to swap and replace, minimizing downtime.
Detects filament absence and automatically pauses your print and sends notifications to MakerBot Desktop and MakerBot Mobile.
Modular design lets you quickly adapt to changes or improvements in materials without replacing the printer.
MAKERBOT PLA FILAMENT
The best and most consistent filament for the MakerBot Replicator Z18 3D Printer.
Made in the USA and tested in-house to ensure highest quality standards.
Consistently round to ensure consistent flow through the extruder nozzle for smooth, even layers.
ON-BOARD CAMERA
Automatically takes reference pictures of final prints and save to your cloud storage library.
Accessible through MakerBot Desktop and MakerBot Mobile apps.
MAKERBOT MOBILE
MakerBot Mobile allows you to remotely connect to, monitor and control your MakerBot Replicator 3D Printer.
Available for iOS and Android.
MAKERBOT DESKTOP
MakerBot Desktop is free, full-featured 3D printing software.
Find, buy and prepare your files from one central location.
Store, organize, and access 3D design files in your personal cloud-enabled library.
PROTECTION & SUPPORT
High-quality, friendly problem resolution from the people who know your MakerBot product best.
3DF CARE Protection Plans offer support the way you want it, including online chat, email, and phone support.
 
Product Features
| | |
| --- | --- |
| Print Technology | Fused Deposition Modeling |
| Build Volume | 30.5 L x 30.5 W x 45.7 H cm [12.0 L x 12.0 W x 18.0 H inch] 45,512 Cubic Centimeters [2,592 Cubic inches] |
| Filament Diameter | 1.75 mm [0.069 inch] |
| Filament Compatibility | MAKERBOT PLA Filament (Large Spool 0.9kg [2.0 LB]) |
| Nozzle Diameter | 0.4mm [0.015 inch] |
| Print File Types | .MAKERBOT |
| Storage Temperature | 0-38°C [32-100°F] |
| Ambient Operating Temperature | |
| Product Dimensions | 49.3 W x 56.5 D x 85.4 H cm [19.4 W x 22.2 D x 33.6 H Inch] |
| Shipping Box | 65.0 x 71.9 x 102.9 cm [25.6 x 28.3 x 40.5 inch] |
| Product Weight | 41 kg [90 lbs] |
| Shipping Weight (Includes Accessory Kit) | 52 kg [115 lbs] |
| Construction | Powder-coated steel with PC-ABS and aluminum composite material |
| Build Surface | Injection Molded PC-ABS |
| Stepper Motors | 1.8° step angle with 1/15 micro-stepping |
| XY Positioning Precision | 11 Microns [0.0004 inch] |
| Z Positioning Precision | 2.5 Microns [0.0001 inch] |
| Camera Resolution | 320 x 240 |
| Software Bundle | MAKERBOT Desktop |
| Supported File Types | STL, OBJ, THING, MAKERBOT |
| Operating Systems | |
| Power Requirements | 100 – 240V; 5.4 – 2.2A; 50/60 Hz; 350 W |
| Connectivity | USB, Ethernet, WI-FI |